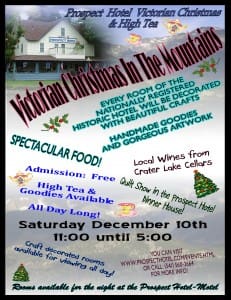 On December 10th from 11am until 5pm we will have craft vendors decorating our rooms with their wares. Each room will have the vendors showcasing their handmade items. In the first floor Parlor we will have tasting of local wines from Crater Lake Cellars and chocolate and toffee delights from Homemade Confections. In one Dinner House room we will have a Quilt show displaying the fine work of Vi Grimes. All vendors and guests are welcome to arrive attired in Victorian garb or in their Christmas finery!
The other Dinner House will be the setting for our High Tea.
This promises to be a fun event!
Take this opportunity for a day out to enjoy the Prospect Hotel all 'Dressed Up' for Christmas, and to relax in high fashion while partaking in some of Karen's delicious homemade tasties, and to find just the right gift for Christmas! Be it for someone else or just for yourself!
We hope to see you here!